By "easy dishes" I'm talking minimal prep on my side, and heavy processing on the production side. I know. Not good. But, unfortunately, on those busy or lazy days, very convenient. Here's an example each of an "easy dish" for breakfast and another one for lunch. I'd like to preface the rest of this post by saying I did
not
eat them on the same day. =] In fact, they were weeks apart! Ha. As if that makes me less of a food slob.
If I buy soyrizo, a vegan, gluten-free chorizo substitute that actually taste remarkably similar to the real thing, I often don't know what to do with it. But I was curious to try it at first, and later discovered I liked the taste, only to realize it's not an item I can find much use for in my kitchen. So, several weekends ago, as I was warming up corned beef hash for my husband (I know!!! he loves it, though; he's not exactly focused on the "healthy" as much as the "tasty" part when it comes to food), and I had a ton of potatoes that needed a purpose in life, I thought -- why not make soyrizo hash!
And soyrizo hash I made! Tasty, but as it combines protein and starch, I had some...unfortunate digestive difficulties. =\ Live and learn. This, and bloating problems (TMI!) is why I started food combining. And if you want to know more about proper food combining, read
this
, or
this
-- it helped me change both my eating habits and my "digestive difficulties."
So, here's soyrizo: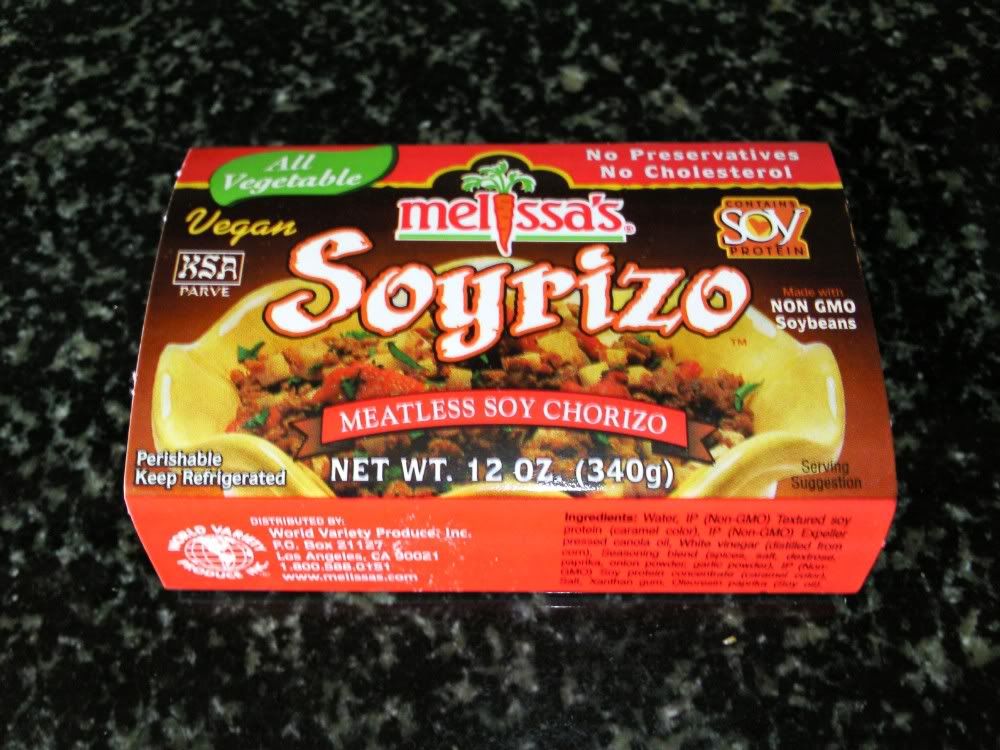 There are at least 3 different types of it that I know, but this time I bought Melissa's
Mine and my husband's dishes side-by-side:
Mine is on the left. All I did was cut up a potato into really small cubes, added an equal amount of the faux-sage, and cooked until the potatoes were soft and soyrizo browned, as suggested by the packaging. It was very good! And if you "stomach" eating protein and starch with no adverse effects, by all means -- do it!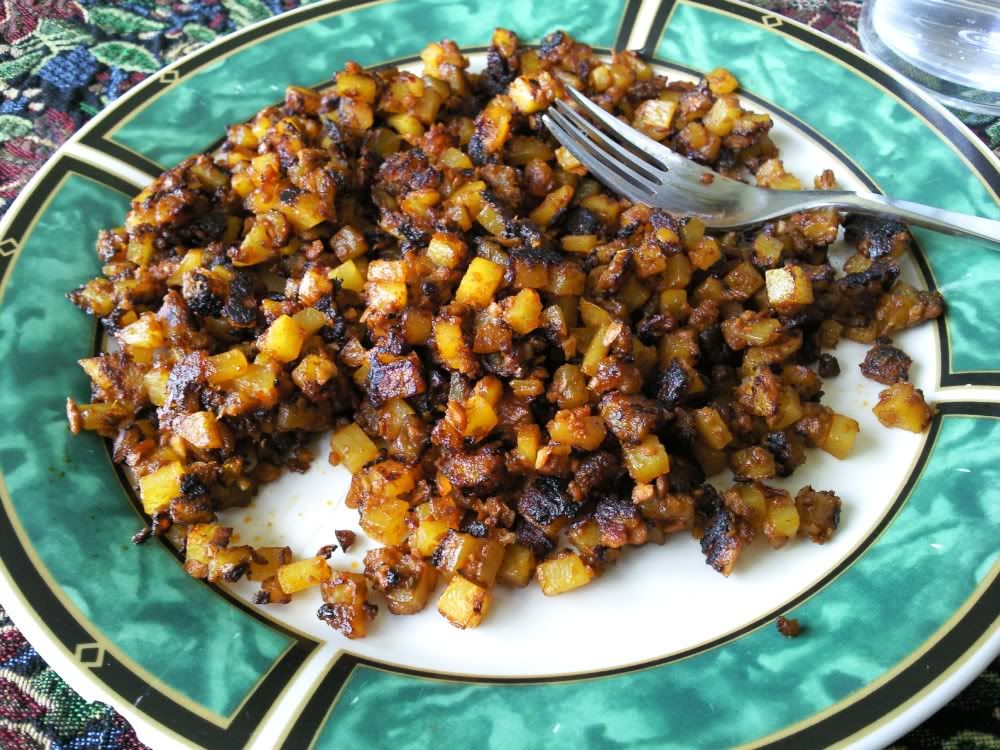 Close-up
The second ready-in-a-snap dish I ate some weeks later was boxed gluten-free vegan mac-and-cheese and canned vegan chili. Easy as...well, definitely not pie, cause that's hard to make -- but this was a breeze to get ready. Make the macaroni per directions, takes something like 5 minutes, open can, heat chili, pour over noodles -- eat. A snap! I also opened another can (oh, the hard work of a cook!) of fire-roasted diced tomatoes with garlic and plopped them on top. For color and veggie requirement.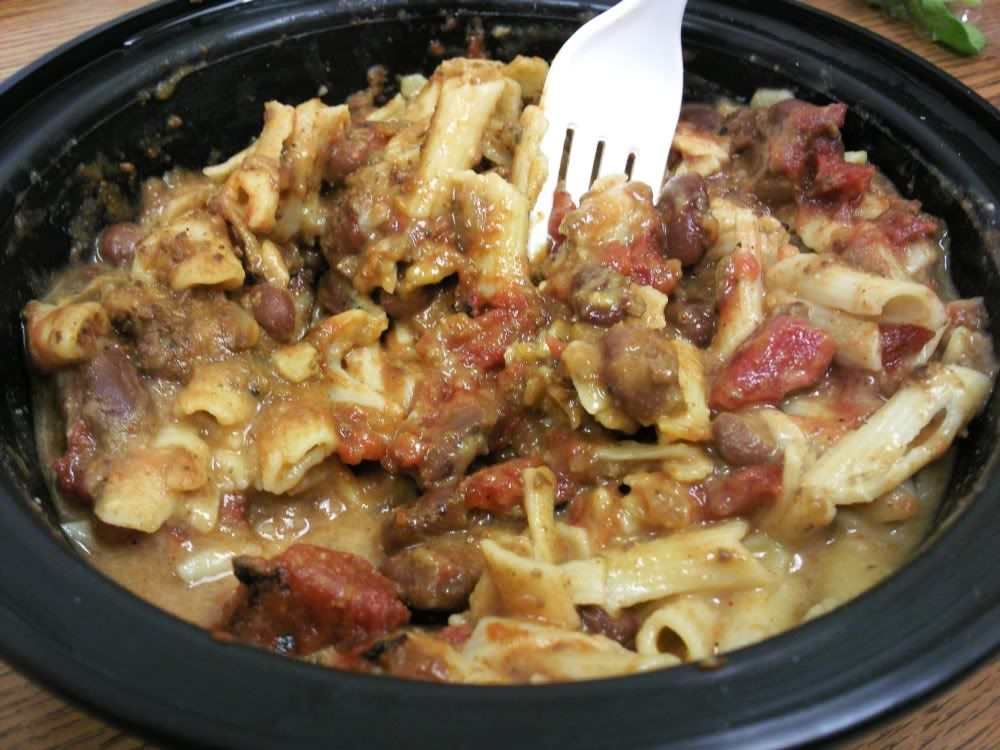 Add a salad if you feel guilty about all the processing.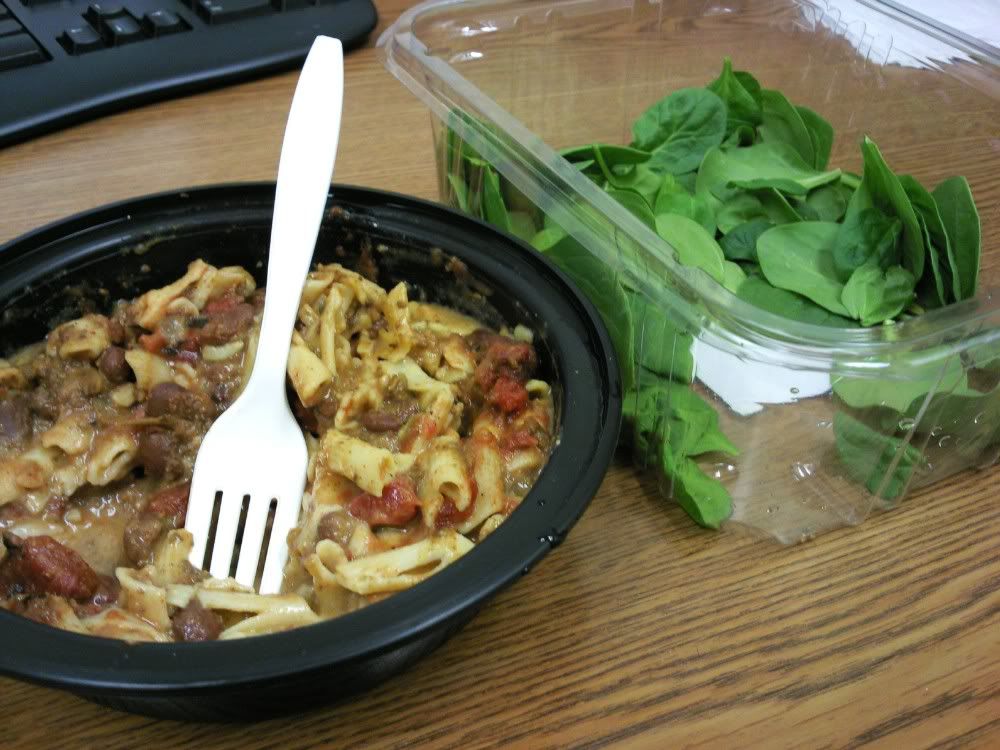 Ok, I'm off to "cook" dinner.